SatNav Scrappage Scheme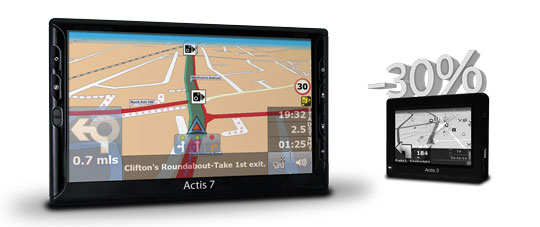 Does it matter how old my current SatNav is?

No, it does not matter. Any age qualifies.

Does it matter if my old SatNav is not in mint condition?

No, we will accept ALL SatNavs in ANY condition!!!

What if my old SatNav only has maps of one region?

No problem, you still qualify for our European discount.

How long does delivery take?

We will despatch your new Actis SatNav on the day we receive your old one.

How should I send my old SatNav to you?

We would recommend you send it by signed delivery (Royal Mail recorded or special) or by courier.

OK, I've bought one. What happens next?

First complete the online order

Now send us your old SatNav (including all cables, holders and software) to:
Directions Ltd
PO Box 296
Sevenoaks
Kent
TN13 1WY

Once we receive your old SatNav we will despatch your new one back the same day.
To order device click on the device you want on the right side of  this page.